Miami Festival Scores Big
Note: The author used to run a theater in Miami and started the Florida Film Competition for feature producers. 
It was 10am on a Sunday morning as I arrived at the Standard Hotel in Miami Beach for the Miami Film Festival's 35th edition press day on a Sunday morning in the middle of March. Four filmmakers were in attendance with large segments of their production team plus press from all over the world: some with cameras, and some, like me, with a pen and paper. 
As it happened, three of the filmmakers had directed films I was particularly interested in seeing. First, this arrangement was extremely efficient. And secondly, it was such a pleasure to meet the entire production team at the same time. 
So often we are given the impression that a film is made by the director alone. Meeting the entire team on these films was a great reminder that no filmmaker goes it alone, although that notion was challenged a few minutes later—as we shall see, below.
The first team I met were the director, fixer, and subject of the documentary feature "6 Weeks to Mother's Day". Director Marvin Blunt has gained a wide international experience on the reality TV show "Miami Ink". 
While in the process of researching a new investigative journalism piece on the shadier side of "volun-tourism" around the world, he was spending a couple of days in Thailand on the way to more important stories in Cambodia, when all his Thai meetings fell through. His Thai fixer, Ladawan Sondak, approached him with the idea of a visit to a Thai school. 
"I was not at all happy about the idea," is how Mr. Blunt put it. "It was not in the arena that I was investigating—foreign-run non-profits with volunteers paying to work there. I VERY reluctantly agreed to go, as I had nothing else to do." As soon as he arrived at the school, he realized immediately that this was the project he was going to undertake.
This is the best filmmaking story I have heard in a long time: how a story just jumped up and grabbed the filmmaker in a completely unexpected way—a testament to creativity at work. A creativity that cannot be controlled, but instead leads the way to bring stories to the world that need to be told.
A scene from '6 Weeks to Mother's Day' directed by Marvin Blunt. photo: courtesy M. Blunt
Blunt and Sondak also explained how locally-based fixers/producers make it possible for US productions to take place in a country such as Thailand, where film crews are highly experienced from working on Hollywood and commercial projects, but need a local producer to deal with issues of language and communication.
"6 Weeks to Mother's Day" tells the story of a Thai school's preparations for their annual celebration of Mother's Day, when they celebrate their scholastic mother, Mother Aew, the founder of their school, and when graduates return, bringing their own children. It is a time of tears of gratitude as well as stories of their time at the school. 
As it happens, all the teachers at the school are referred to as Mother and Father. They help the children in every area of life, from getting up and cooking their own breakfasts to teaching reading, art making, and the great art of having babies of their own. 
The school, Moo Baan Dek, is founded on the liberal British educational approach called Summerhill. "The belief of the Summerhill approach is that the child is basically good, and it is mistaken efforts of parents and society that distort this natural goodness. If children grow in freedom from the beginning, this distortion can be avoided and the children who are already damaged by their upbringing can recover in a free environment." 
Mother Aew began the school with her husband in 1979 and the Summerhill principles of freedom, love and self-governance are evident in all of its aspects. As a lifelong educator, I was astonished at the educational principles demonstrated in scenes showing how children are not required to learn, but are encouraged to want to learn by the teachers; how the children run their own council that delivers discipline to the only infringement a child can make—harming another person; and how they negotiate with Mother Aew to give themselves tougher discipline than she would.
At Moo Baan Dek, the children are all orphans, abandoned and often abused. The school acknowledges how many years in this loving environment it takes for a child to recover depending the level of their abuse and if there was any love at all in their childhood. The school relies on donations and epitomizes a poor but loving community.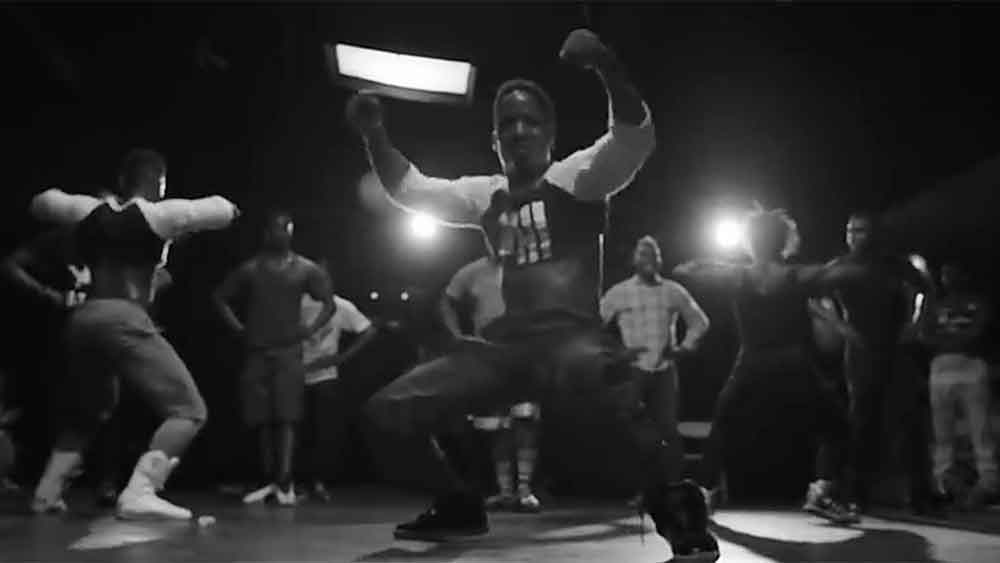 A scene from 'When the Beat Drops' directed by Jamal Sims. photo: courtesy J. Sims
The school runs on the barest of resources but it's poverty is contrasted, in one section of the film, with the degradation, alcoholism, and lack of hope seen in a visit to the parents of twin boys. Suddenly we realize that the school is actually beautiful, serene, and filled with love in comparison to the extreme harshness of life outside. This film is a must see for any educator and for anyone who likes children (and mums for that matter!)
The second team I met were the director and producer of a documentary feature called: "When the Beat Drops." The birth of this film came from Director Jamal Sims's experience many years earlier when he was still in the closet. He visited a Pride Event in Atlanta and witnessed the amazing choreography and hyper athleticism in a club that blew him away. 
Mr. Sims should know: he is one of the most sought after choreographers in Hollywood having worked on over 30 motion pictures including "War of the Worlds", "Mr. & Mrs. Smith", "Crash" and "Mysterious Skin".
Several years later, now openly gay and married, Mr. Sims has returned to tell the story of these extraordinary dance groups and their competitions. These practitioners of a style of dance they call "bucking" is directly taken from the choreography practiced by female cheerleaders in the top teams in the country. Gay men have taken these moves—in which the body "bucks" like a horse—and costumes and transformed them into this extraordinary dance style. For Mr. Sims, the film became a labor of love to bring these dancers and their world to the public eye. "When the Beat Drops" introduces us to great characters and superb dance moves.
Producer Jordan Brendan Finnegan impressed me greatly with his passion for the film. He told the story of bringing some bucking/dance clips to World of Wonder producers Fenton Bailey and Randy Barbato and showing them on an iPad. Finnegan's wonder at the fact that these producers chose to take on the film and his total admiration of their work and that of his director showed how a true producer totally embodies the director's vision to bring that work to the world.
Singer Omilani Alarcon (cntr) directed the film 'Latinegras', about growing up Afro-Latinas. photo: courtesy O. Alarcon
The third film I saw was a first film by local Miami filmmaker, and was one she really did make by herself! Singer Omilani Alarcon plays so many roles in her life as an artist but it was her childhood experiences on television that inspired her to attempt to tell the story of her community of Afro-Latinas in her film "Latinegras: The Journey of Self-Love through an AfroLatina Lens." Alarcon apologizes that her debut feature film is not more polished, but the fact is it's sometime hesitant presentation nicely matches the artist's actual voice and the film's story about her growing self awareness. 
"Latinegras" moves back and forth between Alarcon's direct-to-the-camera speech, to extraordinary historic photographs of slavery, to joyous conversations with Latinegras friends who chat animatedly and jovially about their daily lives living with racism and ostracism. There is no better way to learn filmmaking than to make a film, and inspire audiences with education and entertainment at the same time.
Elsewhere at the Miami Film Festival were many other interesting producing teams. Kevin Chinoy and Francesca Silvestri have been producing for many, many years and recently experienced a new level of success and visibility with their recent extraordinary film: "The Florida Project." 
Directed by Sean Baker, with assistance from Chris Bergoch and others, this exquisite film is almost documentary in style, and follows the lives of several children living with their parents in motels at the edge of the Disney Empire. The film shimmers with color and the heat of a Florida summer, while shining with extraordinary performances and dialog (see cineSOURCE article). 
Chinoy and Silvestri have been working with Baker over several projects for many years and it was a pleasure to hear them tell stories of their collaboration with him and many other, mostly women, directors. 
A filmmaker in the audience asked what made a really good producer, and Chinoy answered that being nice to people was the most important thing. This was my favorite moment of the entire Film Festival. The film business is entirely relationship based, and this simple advice will take producers a long way!
I was also a member of the new Rene Rodriguez Critics Circle Award where we watched ten festival films from all over the world.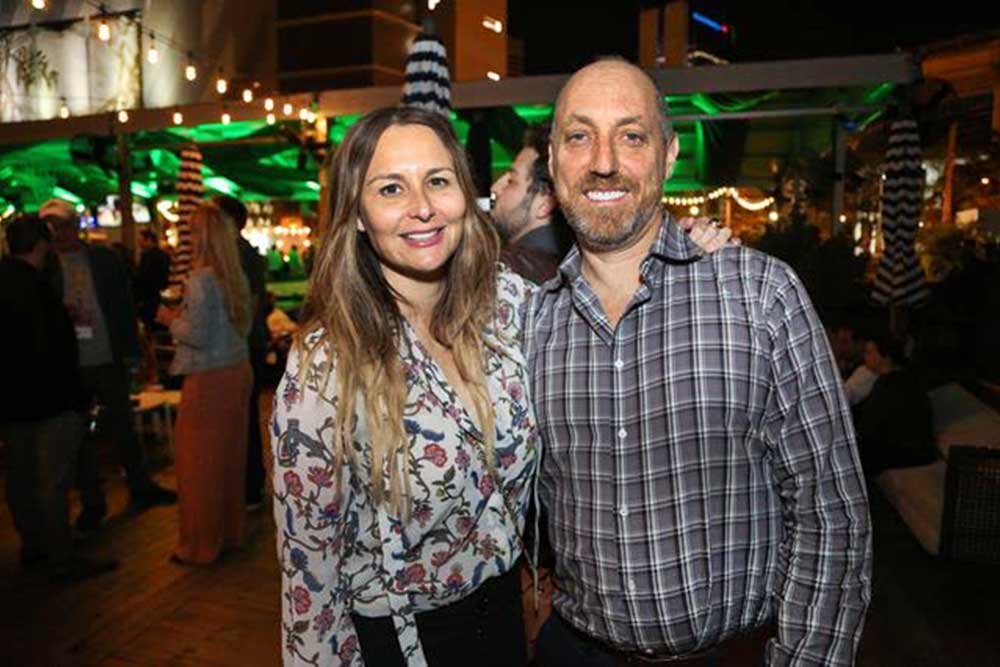 Kevin Chinoy and Francesca Silvestri produced the Oscar-nominated 'Florida Project'. photo: courtesy K. Chinoy and F. Silvestri
The winner of the Award was another documentary-style film "La Familia" from Venezuela directed by Gustavo Rondón Córdova The first act of the film shows several children living in the gritty streets of Caracas and playing at being tough. The degrading language of the children is so well observed and every word said by them or by their distracted adults is an insult, a put down, a horrifying mixture of self-hatred directed at everyone else. 
But one day, another child shows up with a real gun and real violence ensues. The survivor of this incident returns home where his father realizes that having attacked a child of gangsters, his own son's life is now in danger. 
But his son is far more interested in grandstanding and playing the big shot than fearing for his own life, fighting his father every step of the way as they frantically leave the town and try to escape to safety. This is a moving story of a parent who steps up to the challenge of rescuing his son who has already been lost to the destructive pull of his environment.
My personal favorites in the Award films were "Wind Traces," directed by Jimena Montemayor from Mexico. Another beautiful story of a parent and children, this time it is about the parent being lost in alcoholism and grief after her husband's departure. 
Exquisitely played by Dolores Fonzi, the mother rolls around in her bed while her children discover the beauty of the world despite the lack of care they receive from their mother. The film was made with an almost entirely female crew, including director of photography, Maria Secco, editor Ana Laura Castro and art director Alisarine Ducolomb and just won the Guadalajara Film Festival's Premio Mezcal for best director and best Mexican film and also the international critics' FIPRESCI prize.
Dominican Nelson Carlos de los Santos directed the masterful and poetic 'Cocote', about a rural homecoming. photo: courtesy N. Carlos de los Santos
And finally, "Cocote," a masterful and poetic work by filmmaker Nelson Carlo de Los Santos Arias from Santo Domingo, Dominican Republic. The story of a gardener living in the big city, who returns to his rural roots when his father is killed, it has only the loosest of narrative threads. The majority of the film is documentary footage of the funeral rituals conducted by the villagers who are almost all played by non-professional actors living in the film's remote location. De Los Santos Arias studied at CalArts and his experimental film pedigree shows through in this beautiful film.
Major international film festivals such as the Miami Film Festival celebrate celebrity. That is their job. They bring ordinary people—filmgoers—interactions with the most famous actors and directors of contemporary cinema. There are big parties featuring food, fun and fame. 
At the Miami Film Festival Executive Director Jaie LaPlante quipped, "We find what is best at other festivals and bring that here." 
Nevertheless, each major film festival has its own flavor and, for filmmakers, it is this uniqueness that is most important to understand. In order to have your film screened at a major film festival, you need to understand the type of films that show there. One of the major awards at the Miami Film Festival is "Best Film in the Knight Competition" which brings with it a $30,000 prize to a director who has at least one previous Official Selection (feature) of the festival. This emphasizes this particular festival's interest in cultivating long term relationships with directors it brings to the event.
The Miami Film Festival is highly unusual in that it is a program of Miami-Dade Community College, THE largest institution of higher education in the country. President Eduardo Padron has lead the College since 1975, and it is through his creative leadership and partnerships, such as this one with the Festival, that makes the College such a unique and vibrant place. 
Indeed, the festival is one that feels even more inclusive than other major festivals which only adds to the success of its already stellar lineups, many from Latin America.
Joanne Butcher is a business coach for filmmakers working on sales, fundraising, business and money. You can reach her via email or her website.