Show Me the Money: Producer Jamin O'Brien
Show Me the Money:  Producer Jamin O'Brien
by Joanne Butcher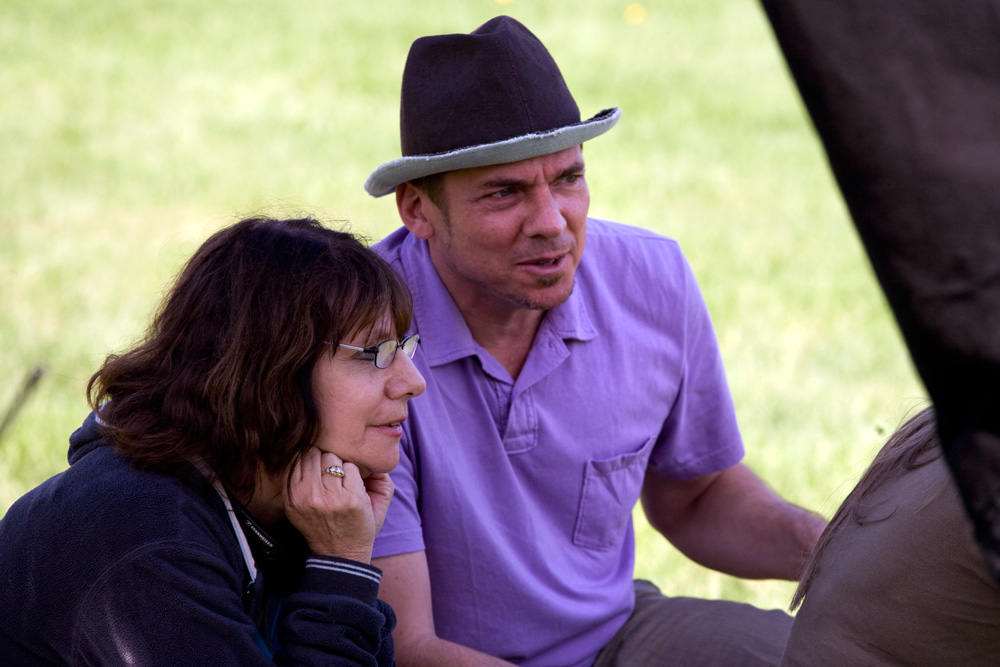 Producer Jamin O'Brien and director Bette Gordon on the set of 'Handsome Harry'. photo: courtesy J. O'Brien
THE PRODUCER'S ART IS TO BALANCE
creative and business perfectly. But, in the world of independent film, that sweet spot is constantly shifting.
Indeed, distribution models are affected by new technology, financial markets moving up and down, and audiences' tastes becoming ever more unpredictable. 
To be a successful indie producer, you have to not only get the absolutely best film to the screen, but you have to negotiate complex financial worlds and investment communities and bridge them into the unpredictable world of motion pictures. 
To gain some insights into this complicated process, I spoke with producer Jamin O'Brien, recent founder of The Film Community, a downtown-New York City finance and production entity dedicated to prestigious, director-driven and financially-viable independent films. 
The first title under his new banner, is the recently released "Hateship Loveship". Starring Kristen Wiig, Guy Pearce and Nick Nolte, it concerns a shy woman (Wiig) hired by Nolte's character to care for a family in crisis.
The Film Community is in preproduction on its second title, "Chronically Metropolitan", a New York-set rom-com about a young man getting out from under his larger-than-life literary father. Starring Evan Peters ("American Horror Story", 2011) and Dianna Agron ("Glee", 2009) and directed by Xavier Manrique, "Chronically Metropolitan" is being executive produced by David Frankel ("Devil Wears Prada" , 2006, "Marley & Me" , 2008). 
Prior to The Film Community, Jamin was the President of Production at Worldview Entertainment, where he helped produce Billy Freidkin's "Killer Joe" (2011), based on the award-winning Tracy Letts play and starring Matthew McConaughey, Emile Hirsch, Juno Temple and Thomas Haden Church. 
He also oversaw "Welcome to the Punch", an $8M actioner starring James McAvoy, and "The Immigrant" directed by James Grey, a turn-of-the-century period piece starring Marion Cottillard, Jeremy Renner and Joaquin Phoenix.
In addition to executive producing Michael Kang's "West 32nd", starring John Cho and Grace Park, he produced the critically acclaimed "Handsome Harry", starring Jamey Sheridan, Steve Buscemi and Aidan Quinn, which premiered at the 2009 Tribeca Film Festival. 
Jamin's extensive background as a producer, line producer and production manager on over twenty independent films, studio films and international co-productions makes him uniquely qualified to discuss how to balance the creative, logistical and fiduciary aspects of projects of different sizes and scopes.
A tracking shot on the set of "Hateship/Loveship". courtesy J. O'Brien
CineSource: So what are you working on right now?
Jamin O'Brien: 'Chronically Metropolitan': The movie is back and forth with the casting and we're circling dates right now. For a June 16th start date, prep would start May 12th.
What are the differences between film financing today and back when you were starting out as a producer? 
I wasn't financing films in a sophisticated way 10-15 years ago. The tools I use today weren't part of the financial structure. Tax credits didn't exist as part of the financing package. International and DVD sales were far more significant back then than they are today. 
As an example, Bette Gordon's second film, 'Luminous Motion', produced by Ted Hope and Anthony Bregman, had an advance against a DVD from a US buyer and an upfront minimum guarantee from an international sales company. No tax credit component.
Today almost every film has a tax credit component. Back then, every film was either 100% equity participation—meaning friends and family money. It wasn't very sophisticated—or advances from DVD and Int'l and U.S. distributors.
Go back to the first film I produced, 'Just like the Son'—a pure equity deal. The only complex part of that project was that we had a post-equity deal with a post-production company. 
We were short money and we shopped it around during the rough cut. That film grew from passion and friends and family having enough money to make the project happen. It was based on passion alone.
Isn't 'pure equity' the way that most filmmakers starting out are using? 
Absolutely! And it's not that it's not sophisticated, because you have the energy to go out and convince people. You have to persuade people to invest in your passion project. But, 'Just Like the Son' was 10 years ago and it's definitely not a film I would tell people to put money into today!
And why is that? 
Because today I am either cursed or blessed with the knowledge of what is a worthwhile risk and what is too risky for an investor. On the other hand, if I had known back then what I know now, I do not believe we would have made such a good film. We would not have cast Mark Webber. We would have had to cast whoever was hot back then. And it would not have been such a good film because he was the right actor for the role.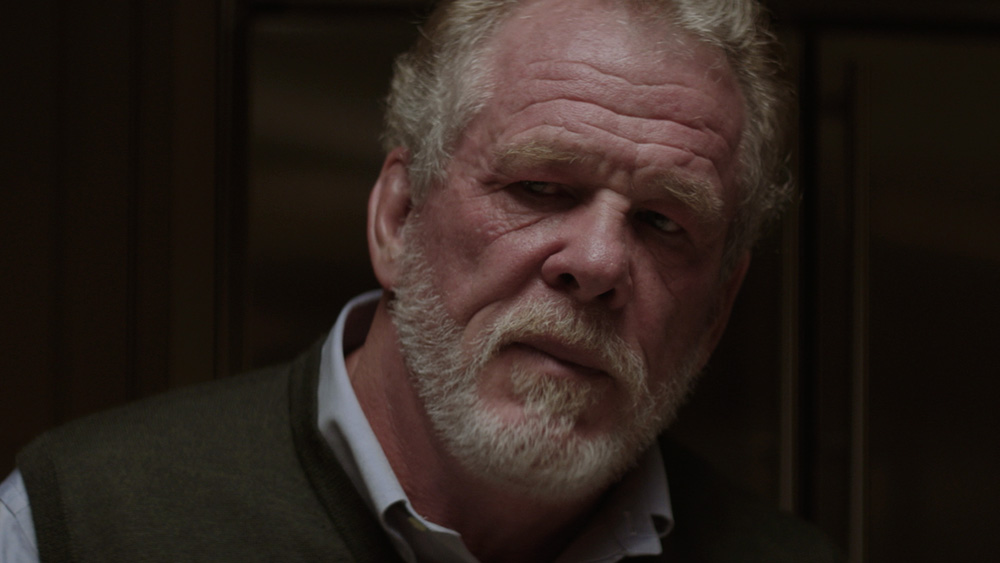 Nick Nolte in O'Brien produced 'Hateship/Loveship' (2012). photo: courtesy J. O'Brien
Nowadays, we select the best actor that helps financing and that green lights the movie. 
There are creative decisions in casting 'Chronically Metropolitan' that are affected by the financing. Getting someone with caché or value is important. Getting their schedule to synch up with everyone's schedules, so I can shoot the movie with the best actors possible, is really tough. It's not so much that getting the financing is hard; getting that person and their availability to synch up with everyone else's is what's hard. It's a balancing act of actors' schedules.
For a producer, the biggest challenge is scheduling and coordinating the actors. That's the largest conundrum. Once an actor is committed then, that's the schedule. 
How do you figure the tax credit part of the equation? 
Wherever you shoot, each State, or whichever country you want to shoot in, offers tax credits for shooting there. And this is very reliable, dependable money: credits or rebate and in some cases subsidies. 
New York, for example, has a rebate. You get money from the State, you don't have to then go and sell the tax credit. In New York there's about a 12 – 18 month cycle to get your rebate back. So we can just go to a lender, and if we have $500,000 rebate, then we can bank about $400,000 – $450,000.
Is that what you would always use as your seed money? 
No. We don't use it as seed money. You still need some private equity as your 'seed' money. Because the tax credit and the Gap loan against international sales, won't actually allow you to spend any money until you have ALL your funding in place.
What happens a lot of times is you have your equity or out of pocket to start production. Like right now, we're already scouting and I'm paying that out of my own pocket to keep our dates together. So I'm paying a location scout and a production manager to keep things in place.
Once we have our actors, then we'll be able to start spending the loan; albeit once we have all the agreements in place and signed on the closing date.
So it's like a closing on a mortgage for a house? 
Correct. The lender won't lend you the money and you aren't allowed to spend the money until there's a financial closing that puts all the money in escrow and that feeds money into a production account and you spend it according to a cash flow.
So what's the main difference between financing a project through passion and structured financing? 
So from back 10 years ago, the main change is being able to assess a project from a risk basis. Basically being able to look at a project and saying, 'Is it worth the investment?'
Being an independent producer, I get a lot of first time director projects and character dramas. I don't get a lot of genre pictures with big directors and big budgets that are easily financeable. I get what we pitch as 'prestige' projects. 
A well-known project like 'Dallas Buyers Club', which is really a low budget movie, is a great example. This was a prestige project because it has Matthew McConaughey attached. He took a huge pay cut – he's a big bankable star doing a $4 or $5M movie.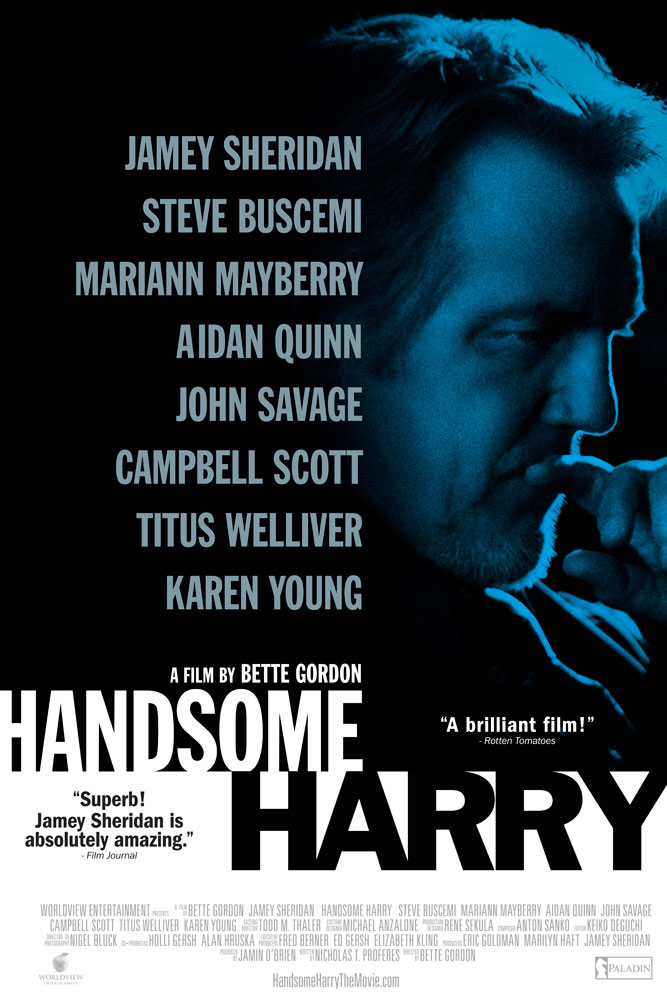 Poster for O'Brien-produced 'Handsome Harry' (2009). photo: courtesy B. Gordan
'Hateship/Loveship' was the same, with Kristen Wiig attached. We have an A-List star saying she'll do an indie, and a great script and a director with a film or two, and you can evaluate it through tax credits and international sales estimates. You always need an international sales company to evaluate the film and what it is potentially worth. 
Some people have formulas for this. You basically want to raise through loans or structured finance, about two- thirds to three-quarters of your budget, and then you have the last chunk coming from equity. Of course, the more equity you can raise, the fewer financing fees you have. 
So it's a conundrum. You need as much from the loan as you can to reduce the amount of equity that you raise, but then the more you borrow, the more financing fees you have. 
So the equity is essentially the money that can save you the finance fees. If you could assess the film from a tax credit and international sales point of view, but not have to bank the tax credit and not have to go out an sell the film prior to shooting; you'd have a better chance at recoupment, as you would avoid the finance fees and selling a finished film is more valuable than a film that you have to pre-sell.
Based on 'Hateship/Loveship' – if we made the movie for $4.3M as opposed to $4.6M or $4.7M, including all the finance fees – it would be a much better investment for all of the people involved. But you need the loan to reduce the amount of equity that you need, as equity is the hardest to raise.
It's all a balance...
So first you come up with the tax credit value. Then the international sales value. Then you can say, with this actor, or with this genre, we can take an equity risk of $500,000, because, no matter what happens, with Kristen Wiig, as an example, you know you can sell this movie to a theatrical distributor for minimally between $500,000 and $1M. 
If you have equity of around $500,000 and you have an A-List star, then you are typically fairly protected, unless you have too much in financing fees. It's all about balancing that. 
Do you typically work on multiple films at a time? 
I always have a larger goal of raising a pool of money that you can put into a group of projects because the hardest part is the timing of scheduling of the directors and actors. 
So if you have a pool of equity that you can actually deploy as needed you'd be able to diversify over several projects, it gives you the leverage that you can go into production any time. That's a position of strength both for putting something into production and for reducing the amount of risk.
Part of what is not revealed in what I've read and what I've seen is the cycle of all the international markets that is so stringent. There are so few markets out there and you only have a couple of moments to time a project for international sales.
That's why you see a lot of projects in the summer, because they pre-sell at Cannes and then everything goes into production. Or, you have projects pre-selling at Toronto or AFM and then they end up happening in October/November schedule and sometimes into December, which is tough because of the additional costs for shooting over the holidays. 
So you have to time it so that you pre-sell some territories in Berlin and shoot in Spring. Or pre-sell at Cannes and start shooting in the summer. Or pre-sell at Toronto or AFM in the fall and shoot prior to Thanksgiving. (Obviously this is a very Anglo-centric point of view! I don't know that the Chinese and Japanese filmmakers are working this way.)
What has changed in the past 10 years regarding international pre-sales and DVD sales? 
10 years ago they would give you an advance against the DVD rights or the international sales. There were minimum guarantees for DVD sales.
It's not nearly as easy and not nearly as big a price tag as it once was. DVD revenue has been greatly reduced. No one is really giving advances for VOD rights, and international sales have just gone down. 
There are some markets that are growing, but they haven't stabilized in a way that makes them reliable. Russia buys some films and the next day the distributor has gone. Spain was a territory you could rely on, and you can barely get a sale in Spain right now. Just economics.
So it's both the larger economy and the film market? 
Yes.
What do Bay area filmmakers need to know about film financing that we haven't discussed as yet? 
What is crucial is coming up with a finance plan, a business plan that makes sense. The hardest part is if you don't have these relationships with the agents, and the managers, and the talent, you essentially have to convince some folks to put some equity into the bank so you can make an offer to an actor that has some validity. No one is going to tie their actor up on a movie that isn't a go movie. 
If someone is a writer and has a strong script, then obviously their goal is to find a producer who can help put it together. Same for a director. 
If they are a producer and have a project then they need to:
Come up with where they shoot should have a tax credit component. And hopefully the best one possible because it can reduce the cost exponentially! 
And then have an international sales company interested in what they are doing and that's typically a genre movie, it's not a drama. First-time and younger filmmakers are often making coming-of-age dramas and those are harder to do. 
I actually know a young producer who won't even read a coming of age tales, as she feels they're not unique enough.
It's completely dependent on finding the talent that would come on board to do it and then creating a finance plan, because the actor and director are so essential to getting an evaluation done by an international sales company.
There are a thousand sales companies out there. So maybe on your first film you get a 2nd-tier company that has a track record for selling films; on the next film you grow more relationships and you can go to an A-List company. 
There are a lot of companies out there and they are all looking for projects. They are easiest to cold call. You can say these are my top two leads for this role and my top 5 leads for this role, and which one can support the movie I want to make?
Is there any difference between being a producer based in New York or in California? 
No, I don't think so. One of the early decisions is where you will shoot it definitely. Think about getting someone to invest in a movie who's never been in the film business and all they know is how their friend got burned. But if you can tell them, I can make a $10M movie for $7.5M if I shoot in New Orleans, because we get a 35% tax break. At least if you're having that conversation with people then you're having a 35 cents on the dollar savings which makes a lot of sense. 
Producers also need to know that budgets are really, really tight. Make sure the budget is done with no fat, by the appropriate person. Someone who does studio films or TV may not be the right person. In the past we maybe had 35-40 days to make a movie; now it's down to 25-30 days which helps the budget go down. 
A first time writer needs to raise equity, make the film for $500,000 and learn along the way of making the film. The money is most likely going to come from friends and family and maybe a couple of introductions. $5 – $10M is typically first a good script that can attract an experienced director that has some track record and can attract some talent that can attract international sales and some equity.
Is $5-10M a sweet spot? 
I would say the sweet spot is $2 – $25M – because all those movies can be produced with 'structured financing.' And then it's all relative. With a $2M movie you're getting a tax credit of a couple of hundred thousand and an international sales loan of $500,000 to $1M. 
Then if you jump to $20M movie, you're getting a tax credit of $5M for the project. And international sales loan for $8-10M and then your making the film in the same way but with much bigger numbers.
One important thing is that international sales companies are highly competitive now. They need to find and secure the best films out there. So sometimes they'll say, 'That's a really good project; Let's give them an advance.' And they put in money to make a film happen. 
Not all of them have that kind of cash to put in, but that's essentially what they're trying for. Because they want to control the project pretty early on and they're having to be aggressive to get the best projects and finance them as well. 
If you look at the film 'Mud' – the film was only on the market for a week or two before it was fully financed! 
Glen Basner's company FilmNation Entertainment went right out and said, 'We're going to take this whole thing. It's got Matthew MacConaughey and Reese Witherspoon and a director that we love, and we're going to go out and make it.' (Glenn Basner is actually a Ted Hope/James Schamus protégé. He was their head of International Sales at Focus, and then went out and started his own company. And now he's producing and doing international sales on prestigious projects. Meaning, value added projects that smart adults want to see.)
I just saw 'Under the Skin.' The film financing came from British Lottery funds, BFI, Scottish Screen, UK Film Council and that type of funding. 
That's a great example. Scarlett Johansson takes a pay cut because it's a prestigious movie. Who wouldn't want to make a movie with Johnathan Glazer? I mean he has a movie and everyone tells him it should cost $7-8M because it's so strange and hard to predict. 
So he says: 'Great, I'll go make it with Scarlett Johansson and we'll make it for $8M. It goes back to that #1 decision. The director who makes 'Sexy Beast' can ask Johansson to work for peanuts compared to what she's used to being paid. Plus all the subsidies and tax credits you mention, that's a solid investment, although I think we passed on it at Worldview as it was too arty! Ha!
Joanne Butcher is a freelance writer and producer, deeply interested in the intersection between art and business, who produces a weekly blog for Nalpeiron Software Analytics and writes for Regatta Marketing and other technology and software companies. She can be reached at her email or Website.